On May 8th 2019, Screen Australia announced #PhiandMeTV was granted $52k to finish the post production of Phi and Me. (Media Release)
As co-creators and writers of Phi and Me, Fiona Chau and I are so excited the first ever Vietnamese Australian family comedy webseries, originally a Melbourne International Comedy Festival show, will become a webseries for the world to see.
I have been selected to be part of Melbourne Web Festival grand jury for 2019. This means I get to watch 25 hours of web content from all over the world, and select the outstanding work. Festival runs 18th – 21st of July.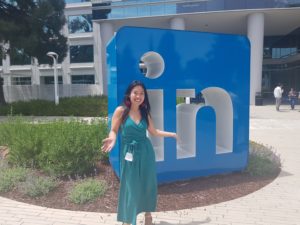 I am a #LinkedinVideo content creator on LinkedIn.
Since October 2017, I have nurtured 36k followers with #DancingDiana videos, and the funniest and consistent LinkedIn interview show #JustDoingKaraoke.
Since my first video in 2017, I appeared
TedX Speaker – Watch it here.
VidCon Australia 2019 – Speaker/MC
Linkedin Live – Streaming Host.
Want to Launch Off LinkedIn? Be part of #TheLaunchOff
Actor/Facilitator/Workshop Coordinator
I am part of Melbourne Playback Theatre Company ensemble since 2010. We are an improvised storytelling theatre company, where we replay stories instantaneously. We work in diverse sectors including corporate, education, government and not for profits.
I am facilitating a webseries workshop in the City of Greater Dandenong as part of the Emerging Writers Festival.
In this introductory session, I will explore the ins and outs of writing and producing your own web series. Learn about the narrative possibilities of episodic story structures, and how to approach all aspects of creating a web series. Book your spot.